CLIENT NEWSLETTER JUNE 2020: WEATHERING THE STORM - EMERGE STRONGER FROM CRISIS WITH PI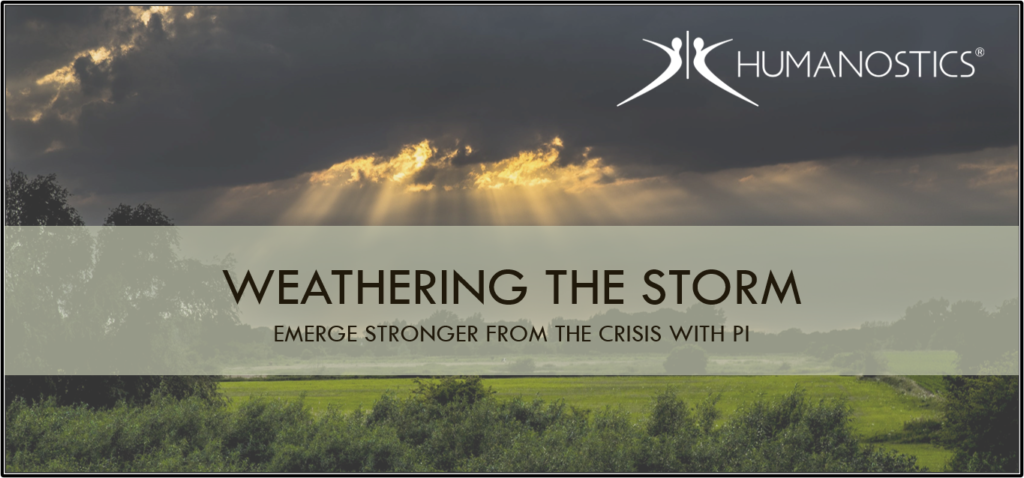 Dear Humanostics client, 
The COVID-19 pandemic has affected many companies negatively, and many have had to make profound changes to their organisation and strategic focus. In times of crisis, it is more important than ever to take care of your employees, and PI is an excellent tool for leaders and HR Professionals to work with motivational drives, collaboration, communication and team cohesion. And if your company's business is slower than usual, perhaps it has freed up some time to work more deliberately with the PI tools available to you? In this newsletter, we present some resources that can help you emerge stronger from the crisis, along with information about new and current features that will help you get the most from your PI license. Do not hesitate to contact us if you have any questions.
Free Resources in Times of Crisis
PI is an indispensable tool and toolbox whether you are 'protecting and reacting' in times of crisis or 'hiring and inspiring' in times of growth. We have put together a host of free resources aimed at helping you weather the storm with the help of the PI solutions, including recordings of the free webinar series that Humanostics hosted recently. Check out our new web page HERE.
The PI Resilience Series – New Virtual Workshops
Has your organisation been forced to change your strategic focus because of the COVID-19 pandemic? Introducing the PI Resilience Series – a set of two new virtual workshops designed by The Predictive Index and facilitated by Humanostics, designed to help you focus on the operational realignment and team cohesion to support your leadership through these unpredictable times. THE TEAM BUILDING THROUGH CHANGE workshop is ideal for leaders and their critical teams looking to adapt to complex and sudden changes by using objective methods to adjust team dynamics, relaunch teams, and unlock collaboration. The LEADING IN CRISIS workshop is ideal for executives and senior business leaders looking to build their way back to stability and confidently address critical business decisions fast. Watch a short video about the workshops HERE and contact us to learn more.
Are You on Top of GDPR Compliance?
Not sure if you are handling PI data in compliance with GDPR legislation? Here are a few tips for you: Ensure your users only have access to the data they need by setting up an appropriate folder hierarchy and only grant your users access to the folders they need. Do not store data in the main folder as all users have access to that. Check that each user has a default folder assigned. Remember to deactivate users when they leave the company. Perhaps most importantly, ensure candidate data that you no longer need is anonymised – this means that they are not only deleted (archived) from your account but also from all PI's back-end systems. In PI Software you can set up an anonymisation process that automatically anonymises all your candidate data after a certain number of days (which you decide on) – that way you do not have to do manual data clean-up of old data. Read more about handling PI data in compliance with GDPR in THIS GUIDE.
The PI Cognitive Assessment
Are you unsure how to apply the PI Cognitive Assessment – how and when to apply it, interpret the results and give feedback to the assessment taker? Or maybe you know the basics but would like some useful tips or additional information? We have gathered a bunch of useful information in THIS GUIDE. Did you know for instance, that you can download the Cognitive Report in two different formats? One is suitable for handing out to the assessment taker, the other is intended for internal use and has more sensitive information such as the cognitive job target, raw scores and sub scores. For more about the science behind the PI CA, watch THIS VIDEO from the PI Science Team.
Open Invitations – Invite By Link
Did you know that you can create a unique URL in PI Software that allows anyone with that link to self-register with their name and e-mail and take the PI Behavioral Assessment? This means you do not have to spend time sending individual invitations one by one when you want to assess a group of people in one go. The feature is available in the Assessment Center and has recently been enhanced with additional functionalities: You can customize the URL to reflect the job or company name, you can choose a web site that assessment takers are redirected to when they have completed the BA, and you now have more options of sending automatic notification emails to various stakeholders. Try the Invite By Link feature in PI Software today or watch this video tutorial to see how it is done step-by-step.
The E Factor
While the Four Factors A, B, C and D are the primary factors of the PI Behavioral Assessment, we also have the secondary E factor which can be seen in the Synthesis pattern. Factor E measures the degree to which an individual prefers objectivity when processing information and making decisions. If someone has a low Factor E they are considered subjective, indicating that their decisions are driven by emotions, intuition or instinct. If someone has a high Factor E they are considered objective, indicating that decisions are made based on the data and facts available. Just as with the four primary factors, there is no right or wrong when it comes to the E Factor as it depends on what is required in their role. You can read more about Factor E on Catalyst HERE.
Troubleshooting PI Issues

If you experience any problems while working with PI, you can refer to the PI Troubleshooting Guide on Catalyst which will help you find a solution to the most common issues experienced by clients. Humanostics is of course always here to help you as well, so please do not hesitate to reach out to us if you need help with anything.
PI SOFTWARE VIDEO TUTORIALS
Do you want to take a specific action in PI Software but unsure how to do it? 
THIS LINK gathers a list of short step-by-step video tutorials that show you how to do various things in PI Software, from sending out assessments to generating team reports to creating new users in the administration module.
THE 17 REFERENCE PROFILES
The 17 Reference Profiles provide a general idea of a person without having to know the specific amount of dominance, extraversion, patience, or formality they have. While unique behavioural patterns should always be reviewed in depth when applying PI and making decisions, the 17 Reference Profiles provide a shortcut for understanding behaviours and needs that drive your people.
You can download the Reference Profile Guide in from CATALYST in 19 different languages.
Watch THIS VIDEO to learn more about the background of the 17 Reference Profiles.
INTRODUCING TALENT OPTIMIZATION: TWO BRAND NEW PI SOLUTIONS COMING IN 2020!