CLIENT NEWSLETTER MAY 2022: Candidate experience, job ad wording, structured interviews, communication with candidates, create a compelling job advertisement, 'HIRE Advanced' workshop, measure candidate experience, Talenthub

Optimise Your Candidate Experience
Having a good candidate experience can be a competitive advantage because it greatly affects your employer brand, i.e. your reputation as a place to work, especially in today's heated job market. Word-of-mouth can be very powerful, so it is in your company's interest to try to ensure that anyone who applies for a job in your organisation sees you as an attractive employer, even if they are passed over. One thing you can do is to try to make your hiring process simple and transparent for the candidates so they know what to expect. Make it easy and quick for them to apply for a job and submit the information you need. A complex, rigid or time-consuming application process may diffuse the interest of candidates, even those who are genuinely interested in working for. Ensuring that your hiring process is respectful of the applicants' time as well as yours is in everyone's interest. Luckily, The PI Behavioral Assessment and The PI Cognitive Assessment can be completed by the candidate in 20 minutes in total, and a thorough readback can be conducted in less than 30 minutes. This limited time spend improves the candidate experience and allows you to use the assessments early in the hiring process to get more data points from the outset. This not only means that you can make a more holistic evaluation of your applicants but also allows you to be more inclusive because you might consider someone who is a great match with the behavioural and cognitive requirements of the job, even if they do not have the experience you would otherwise prefer. Focusing on the objective data points from the PI assessments will also help you lessen the impact of some of the unconscious biases that we all have, allowing for more inclusivity. 
How Do You Create a Compelling Job Advertisement?
A great job advert that accurately describes the job you are hiring for and your organisation as a workplace helps you attract more applicants. Before you start describing your ideal candidate in the job ad, you should of course be very clear on what is required in this particular job, both in terms of skills / experience and in terms of behaviour and learning ability. It is also a good idea to consider what the new employee needs to have from day one in order to succeed and what they can learn after you hire them. Limiting your requirements to the non-negotiables instead of including a long list of things that are nice to have but not strictly necessary will widen your candidate pool, making the hiring process more inclusive. Skills, competencies and experience are ing general something you can build on over time, while motivational drives and general cognitive ability as measured by The PI Behavioral Assessment and The PI Cognitive Assessment are statistically stable over time and are therefore difficult to change. This makes these data points important in hiring decisions, and you greatly improve your chances of retaining the talent you hire if you choose someone who is a natural fit to the cognitive and behavioural requirements of the role. When it comes to describing the personality or behaviours of the ideal candidate, a lot of companies fall into the trap of using buzzwords without considering what the specific job requirements are. For example, not all jobs require you to think outside of the box, be a goal-oriented self-starter, or have sense of urgency. By using a job profiling tool like The PI Job Assessment, you can define the ideal match for a specific job role and avoid listing buzzwords that may not describe what you actually need. Use som of the wording in the PI Job Report once you have finalised your job target, or use this Humanostics Guide to Job Ad Wording to find the right words. This will also likely increase your chances of attracting applicants who are a good behavioural match, because they can identify themselves with the description. 
Structure Your Interviews
Job interviews obviously have a big impact on our candidate experience. A positive interview experience can greatly improve the candidates' perception of your organisation, while a negative interview experience can do a lot of damage to your employer brand. Having a structured interview process ensures that you treat your candidates more fairly and makes it easier to compare responses, reducing bias and allowing for more objectivity. When exploring the behavioural fit with the job requirements, you can use the questions in the PI Interview Guide which compares the candidate's profile to the job target you have created using the PI Job Assessment. It includes questions you can use to confirm the potential behavioural alignment where they seem to be a good match, as well as questions you can use to explore if the candidate can behaviourally adapt to the job in areas of potential misalignment with the job target. Download the PI Interview Guide from the Person Page in PI Software.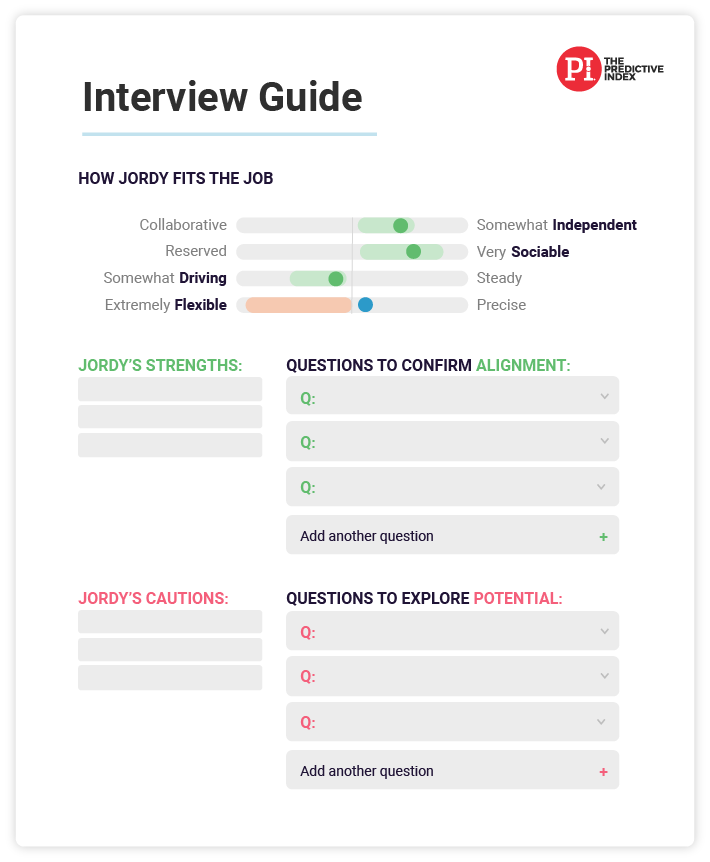 Communicating with Candidates
A recruitment can sometimes be a lengthy affair, and for your applicants it may be difficult to figure out where you are in the process and where they stand. Communicating clearly and proactively to your candidates can help keep their interest and minimise their anxiety and frustration. Start by being clear about your recruitment process upfront, e.g. on your website or in the job advert. Ensure you respond to all inquiries from your applicants in a timely manner and communicate to them proactively about the decisions you make and what the next steps are. Even if there are no news, you may want to consider reaching out to your candidates to let them know that they are still in the running. The longer it takes for you to reach a decision, the greater the risk that your preferred candidates accept another offer. Once you have found your new hire, spend some time following up with the candidates who are passed over to let them know why they did not get the job, what potential you see in them, and if there are any other job opportunities in your company. This can help rejected candidates keep a positive perception of your company as a great place to work. 
MEASURE YOUR CANDIDATE EXPERIENCE
A great way to optimise your recruitment process and employer brand is to ask the people on the other side of the table about their experience – whether you end up hiring them, they decline your offer, or you reject them. Engage your organisation and create a candidate centric culture with best-in-class feedback and recommendations. Talenthub is the #1 Candidate Experience survey platform. Remove gut-feelings and collect data and insights on your recruitment process based on feedback directly from your candidates. Collect anonymous feedback from all stages of the recruitment process and get insights, metrics and answers in one dashboard. The Talenthub platform allows you to benchmark your scores in industry and globally, and provides you with a best in class survey builder, based on best practices within recruitment. You also get a personal Candidate Experience Specialist. Start analysing and improving your candidate experience today and turn all your applicants into ambassadors. Book a demo of the Talenthub solution HERE.
Are you already certified in PI but would like to enhance your skills within systematic recruitment, structuring the hiring phases and interview questions, and mastering different interview techniques? In Humanostics' intensive HIRE ADVANCED workshop, we will focus on how PI can support an optimal recruitment process, and on how the tools' features can help you get maximum value from your candidate dialogue. Your goal is to hire the right person for the job in the most effective way, while ensuring a good candidate experience. Your process needs to ensure a level of thoroughness to increase the likelihood of choosing the right candidate, but also speed to ensure that you do not lose candidates in the process. Read more HERE.