CLIENT NEWSLETTER SEPTEMBER 2021: THE M SCORE, MANAGEMENT STRATEGY GUIDE, DELETING PEOPLE DATA, RETENTION AND RECRUITMENT IN A POST-PANDEMIC REALITY, THE PI LEARN PORTAL, PI SUPPORT PORTAL

Retention and Recruitment in a Post-Pandemic Reality
In the countries that are recovering from the pandemic, the economy is improving and unemployment rates are low. Retaining high-performing employees continues to be an important focus area for many companies, and keeping them engaged can be a challenge if you are not sure how to manage them. The PI Behavioral Assessment allows managers to adapt their leadership style to suit the motivational drives and needs of each of their team members which will help keep them happy and productive. In the post-pandemic reality, some industries are also hiring extensively and can benefit greatly from using the PI Job Assessment,  the PI Behavioral Assessment, and the PI Cognitive Assessment to ensure they hire the right people into jobs that are a great fit with regards to their motivational drives and needs as well as their general cognitive ability. And if there is such a scarcity of the type of candidates you are looking for that you are willing to hire anyone with the right qualifications regardless of their behavioral profile and cognitive ability, the assessment tools still provide you with invaluable information about what drives them, how quickly they learn, and how they are likely to behave in the workplace.
Manage Someone Based on Their PI Profile
The PI Behavioral Assessment is a powerful leadership tool for managers who would like to adapt their leadership style to suit the needs of the different individuals on their team. Knowing what drives your team members can help you motivate them and keep them engaged. Use the Management Strategy Guide to get tips on how to communicate with someone, delegate tasks to them, or give them feedback. All PI INSPIRE clients can generate the Management Strategy Guide from the Person Page in PI Software at no additional cost. See how in this short video.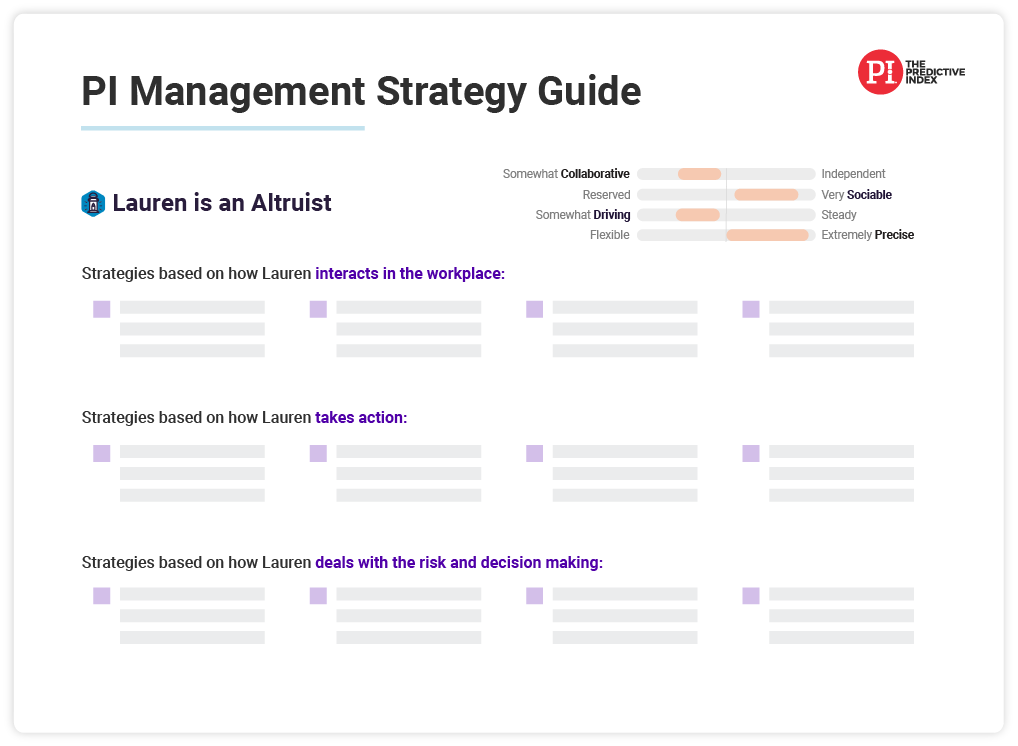 The M Scores on The PI Behavioral Assessment
The number next to the M you see to the left below the Self, Self-Concept graphs refers to the number of adjectives a participant selects on the PI Behavioral Assessment on the respective checklists. The M score below the Synthesis graph is the sum of the Self and Self-Concept M scores. Assessment takers are compelled to choose no fewer than six and no more than 80 words on each page when completing the assessment, but we advise you to be especially thorough during the readback if an individual has chosen 10 or less words on either page. A thorough readback will confirm whether the profile is indeed valid or whether the assessment taker has not taken the assessment seriously due to e.g. scepticism. Please note that research does not support using M for any workplace decision-making as it is not a measure of any construct.

Deleting People Data from Your PI Software Account
In many countries such as in the E.U., data privacy laws require companies to delete the personal data of former employees and candidates who are not hired. Administrators can set up automatic anonymisation in PI Software, but you can of course also do it manually. Note that using the 'Delete' button will only archive the data, i.e. remove it from your account but keep it in PI's backend systems, while using the functionality 'Anonymize personal data' will delete it everywhere. In the E.U., you should always use the latter to be GDPR compliant.
Learn practical ways to make better hires, build high-performing teams, increase employee engagement, and improve working relationships. Introducing PI LEARN – an online knowledge base and learning hub for bite-sized learning, guides, videos etc. on all things PI.
Sign into PI LEARN with your PI Software login or sign up for free to gain unlimited access to all of the free content and courses.
Note that the learning materials on PI LEARN are no substitute for attending an official Predictive Index Seminar – if you need to be able to interpret assessment results and give feedback to assessment takers, you should attend a PI workshop to get certified and become a  PI Practitioner.
How do you create an Open Invitation link in PI Software? How do you give feedback on the PI Cognitive Assessment? How do you use the new Team Discovery tool? What can I tell my organisations about the science behind PI? Get help on all things PI on the new PI SUPPORT page online. You are of course also welcome to contact Humanostics for assistance at any time – we are always happy to help and provide sparring to our valued clients!