CLIENT NEWSLETTER APRIL 2021: Setting Job Targets with Stakeholder Input, Face-to-Face Workshops, Improve Working Relationships

Optimise Working Relationships with PI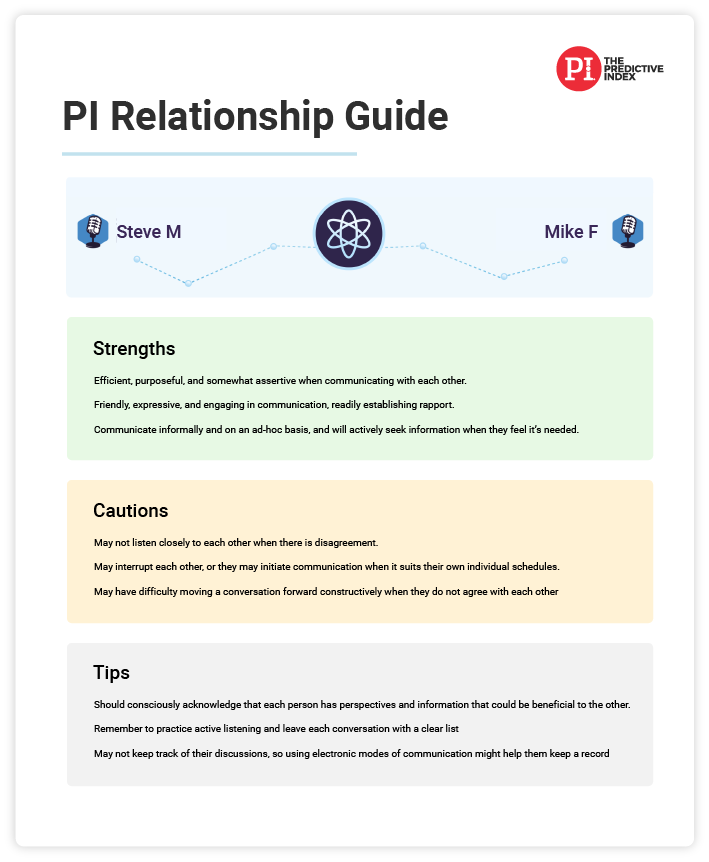 When adding new members to your team or even for members who have worked together previously, PI's relationship guide can provide valuable insight into how two individuals can get the most out of their interactions.
The Relationship Guide lets any two people in your organisation discover the interplay between their behavioural drives. It is easy to see how people's strengths combine and where people might stumble when working together. A quick report can solve communication challenges and drive productive conversations.
You can generate the Relationship Guide in PI Software – see how in this short how-to-video.
Set Job Targets with Input from Stakeholders
How do you create alignment in a hiring committee around the behavioural and cognitive requirements for a role? Get unbiased and comparable input from stakeholders by asking them to complete the PI Job Assessment. It takes less than 10 minutes for them to fill in, and you can send the short survey to them on e-mail directly from PI Software. The combined overview allows you to compare the stakeholders' input on each of the four factors of the PI Behavioral Assessment as well as the PI Cognitive Assessment scaled score.
Use your knowledge as a trained PI Practitioner to facilitate the discussion and gain agreement on what you are looking for to fill a specific role so you can find and hire the right person for the job. To learn more about working with the PI Job Assessment, watch this recorded webinar.
Report: The State of Talent Optimization 2021
In February of 2021, The Predictive Index surveyed 515 CEOs, presidents, and SVPs from 15+ industries. The goal was to understand how companies that practice talent optimisation—the discipline of aligning talent and business strategies—fared in one of the most tumultuous business years on record. As you will see, talent optimisation is a differentiator. After reading this report, you will understand how talent optimization can help you achieve positive business outcomes, even amid uncertainty. Read the report HERE.
FACE-TO-FACE AND VIRTUAL WORKSHOPS
Humanostics have slowly begun hosting face-to-face workshops again in a number of countries while we continue to run virtual training as well.
Attending the intensive Predictive Index Seminar (certification) will empower your HR Professionals and leaders to drive change and build a better workforce. Participants will become experts in applying PI's methodology throughout your organisation to drive better teamwork, hires, engagement, and productivity. Many of our clients have realised that the use of the PI and especially the training of their HR professionals and leaders in the PI tools have helped them emerge stronger from the COVID-19 crisis.
Virtual PI workshops have been a great success during the pandemic, and we have received very positive feedback from participants for the structure, content and interactive nature of the virtual PI workshops. More than 200 participants completed virtual workshops during 2020, and so far we have already had more than 100 virtual course participants in 2021. Contact us to learn more about the options for virtual training or view our course calendar for open-enrolment workshops.
Classroom workshops are of course being held with all possible health and safety precautions and in full compliance with the recommendations of the World Health Organization (WHO) and the local authorities.