CLIENT NEWSLETTER MARCH 2020: FREE PI WEBINARS - LEVERAGE PI IN TIMES OF UNCERTAINTY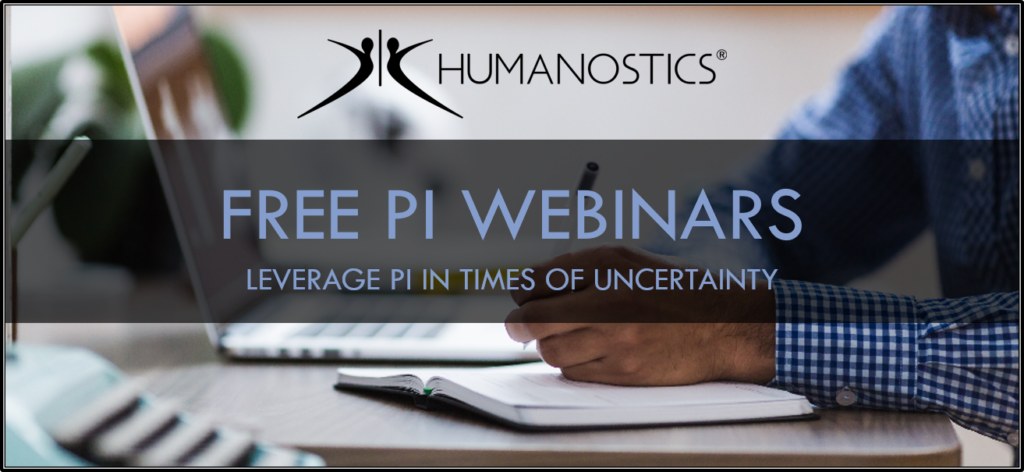 Dear Humanostics client,
The Corona virus situation has turned the world upside down for many of us and the future is uncertain for individuals and businesses alike. In these trying times, Humanostics would like to offer our support to clients in any way we can. Though we work from home these days, we are still available in our usual capacity to answer questions and assist you, so please do not hesitate to reach out to us if there is anything we can do to help you through the crisis. As a special initiative, we will be offering live webinars in the coming weeks on different PI-related topics, and you can attend free of charge as a Humanostics client. Furthermore, this newsletter features information about the online knowledge center CATALYST, as well as tips for working from home.
Free Live Webinars
PI is an indispensable tool and toolbox whether you are 'protecting and reacting' or 'hiring and inspiring'. We have initiated a series of free interactive live webinars to help you work (even more) effectively with PI. Register for the webinars by clicking the dates below – you will receive a calendar invitation with the link to attend the webinar. We welcome a maximum of 20 participants on each webinar in order to be able to make it interactive and leave room for questions and answers.
AN INTRODUCTION TO PI
You have never used PI before, but you want to know what it is all about. This webinar covers the basic elements of how PI works and what a scientifically validated psychometric tool like PI can tell you. This webinar is for anyone in your organisation who would like a short introduction to the world of PI.
Audience: Anyone
PROTECT & REACT – PI AS A LEADERSHIP TOOL IN TIMES OF CRISIS
How do you apply PI during and after the a crisis? People are an essential part of every business decision. Even if you are not hiring and onboarding, you need to inspire the existing people and consider how you best deploy your talent. if you are downsizing, you need to retain the right people and motivate them to pull through the changes.
Audience: PI Practitioners and others with PI training
CREATE A COMMON LANGUAGE
You are in HR or in management and you want to leverage the full potential of PI by building a common language around the behaviours and needs that drive your people. This webinar will give you tips on how to do just that, ensuring that PI becomes truly embedded in your organisation.
Audience: HR and managers with some PI knowledge
ACE PI SOFTWARE
You want to master the PI Software platform and familiarise yourself with all its features and functionalities. This webinar takes you on a guided tour of PI Software and give you tips and tricks to administer PI effectively and in a GDPR compliant manner.
Audience: PI Software users
LEVERAGE PI ON YOUR WORKFORCE
PI is so much more than a great hiring tool. In this webinar we will share tips and tricks on how to administer team tools and reports designed for inspiring, motivating and retaining the existing workforce. We welcome all software users and Practitioners working with PI in teams and management.
Audience: PI Practitioners and PI Software users
THE POWER OF PI COGNITIVE ASSESSMENT
This webinar is for anyone who would like to know more about the PI Cognitive Assessment, formerly known as PLI, and how it can add value to your hiring and talent management processes. We will go through the basics of PI CA and teach you how to apply it and interpret the scores.
Audience: Anyone
CATALYST – Online Knowledge Center
Did you know that you have free access to the online knowledge center CATALYST as a PI client? In CATALYST you will find a wide variety of help articles to leverage the science, software, and applications of PI. There are articles, guides, videos, toolkits, templates etc. on the topics of hiring top talent, inspiring employees, developing managers, implementing and applying PI, using PI Software and much more. Access CATALYST directly from PI Software by typing a question in the bottom right box on the Dashboard, or by clicking THIS LINK. You may need to sign in to PI Software first.
Tips for Working Remotely
The Corona virus situation means that many of us are working from home, including the team at Humanostics. Some of you may be used to working away from the office, but for others this may be an unfamiliar and even intimidating situation. The Predictive Index have gathered a list of 25 essential tips for working remotely to help you create the best conditions for you and your team to stay connected, productive and healthy. Check out their blog post HERE.
Workshops Postponed
Our open-enrolment workshops have been and will be postponed according to the recommendations of the World Health Organization (WHO) and the national authorities in Denmark and the other countries we operate in. Everyone enrolled in affected workshops will be notified directly and transferred to a future workshop. Do not hesitate to contact us if you have questions related to training and the Corona virus situation.