THIS IS HOW YOU BUILD DREAM TEAMS
BUILD DREAM TEAMS THAT DELIVER GREAT RESULTS
Many teams are struggling to create results and meet expectations, especially in the difficult environment that many companies are operating in at the moment. More often than not, this is not due to a lack of skills in the team members but because there is a lack of trust or they are not aligned on their strategic priorities.
A Dream Team is a team that is engaged and productive. Where there is mutual trust, awareness of each other's differences, strengths and weaknesses, and where there is a clear sense of direction. But how do you get there? 
Introducing the brand new Team Discovery tool from the Predictive Index! Team Discovery uses science-backed technology to gather critical people data and map this data against your business strategy. 
CREATE AWARENESS AND ALIGNMENT IN ANY TEAM
Team Discovery is a talent optimisation tool that will help you set the direction for any team, understand what is holding them back, and build a clear path forward to improve communication and accountability, so the team can reach their goals.
Through four focus areas, Team Discovery will help you create awareness and alignment so you can build true Dream Teams that are engaged and empowered and deliver great results:
HOW DOES TEAM DISCOVERY WORK?
The Team Discovery tool visualises a team's goals and its collective behavioural strengths and weaknesses side-by-side in PI Software, allowing you to take action and build teams that deliver great results. Team Discovery will show the behavioural work styles of team members and create a common language to build individual awareness and explore complementary strengths. It will identify your Team Type so you can celebrate team strengths and examine potential blind spots that are challenging team dynamics. Next, you choose your team's current priorities to identify your Strategy Type.
The Team Discovery tool will help you explore your Team Type through the lens of your objectives and identify strengths and potential blinds spots of your specific combination.
You will get scientifically backed recommendations on how to improve your team's work style and build a culture to reach your goals and build a true Dream Team!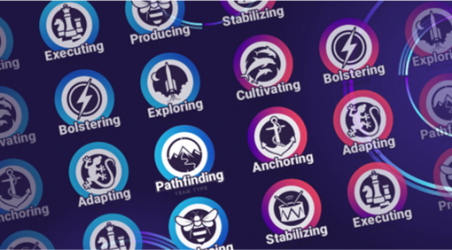 Click on the icon to watch the recording of our our free demo webinar of the new Team Discovery tool to learn how to work with the tool in PI Software and build your own Dream Teams. The slide deck is also available for download.
TEAM PERFORMANCE CERTIFICATION
The Team Performance Certification is a free-of-charge course series that will help you build accountable and collaborative teams that deliver great results. You will learn to celebrate your team's strengths and also begin to examine potential blind spots that challenge collaboration. In addition, you will get a clear action plan to address opportunities to better work in harmony immediately. Take the certification on PI Learn HERE.